Yoga Retreat in Koh Phangan, Thailand
Escape from your hectic days, relax and immerse yourself in yoga to rejuvenate your spirit, discover or deepen a yoga practice, and find inspiration among other yogis in a beautiful tropical paradise of Koh Phangan!
In a Partnership with Yama Yoga Studios
What's Included
Up to 6 daily yoga classes (Ashtanga mysore, dynamic vinyasa, yoga basics, mixed-levels vinyasa, yin & restorative, kundalini)
Daily guided meditation/pranayama classes (excl. Sundays)
Daily breakfast, lunch, dinner
Full access to our saltwater pool and herbal steam room
Daily 1 hour Thai massage
Private accommodation
Additional benefits

Free wifi
Private motorbike parking and assistance with rental
Free filtered drinking water
Free use of yoga mats and props
Free use of SUP boards
Gallery
Escape, retreat, deal with those underlying health issues and come away feeling revitalised and refreshed. And when you are not doing that enjoy the gorgeous sunsets of Koh Phangan and the company of like-minded detoxers. Our affordable retreats are a luxury for everyone.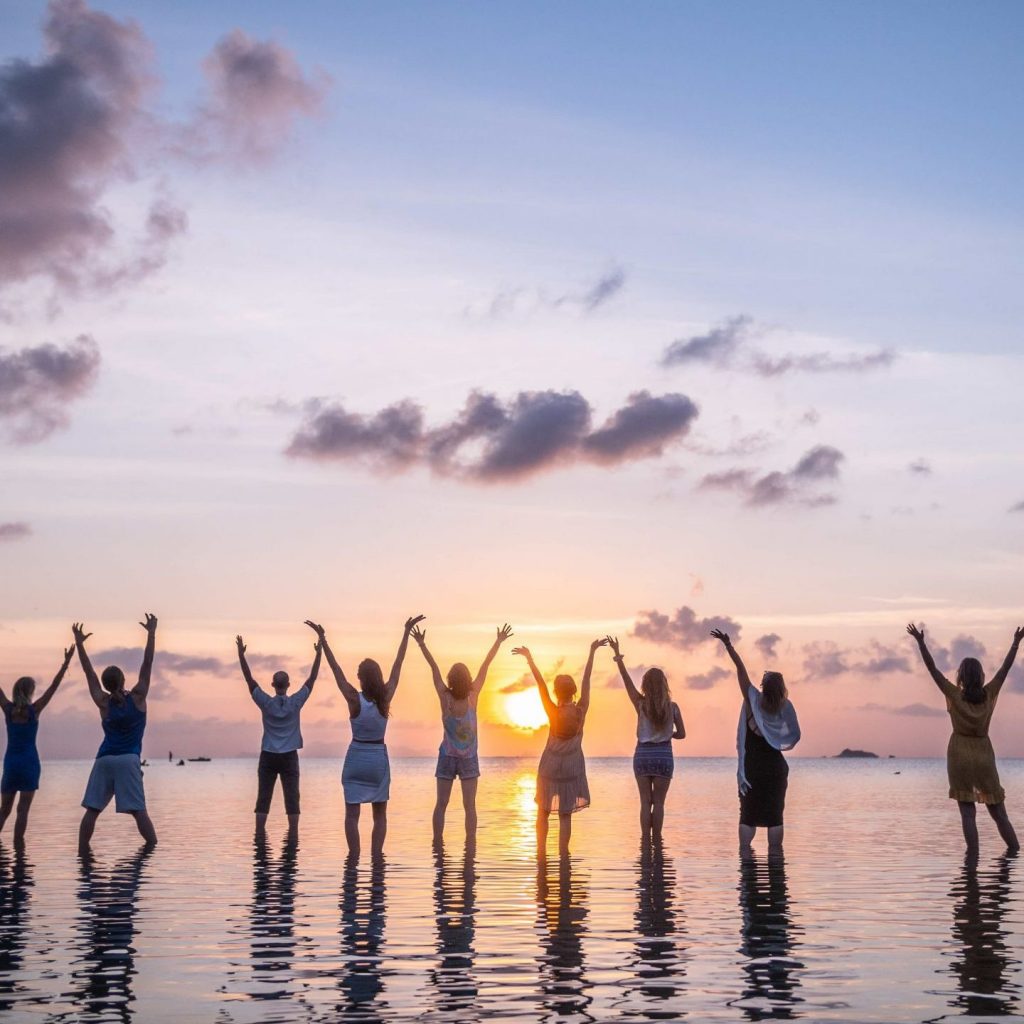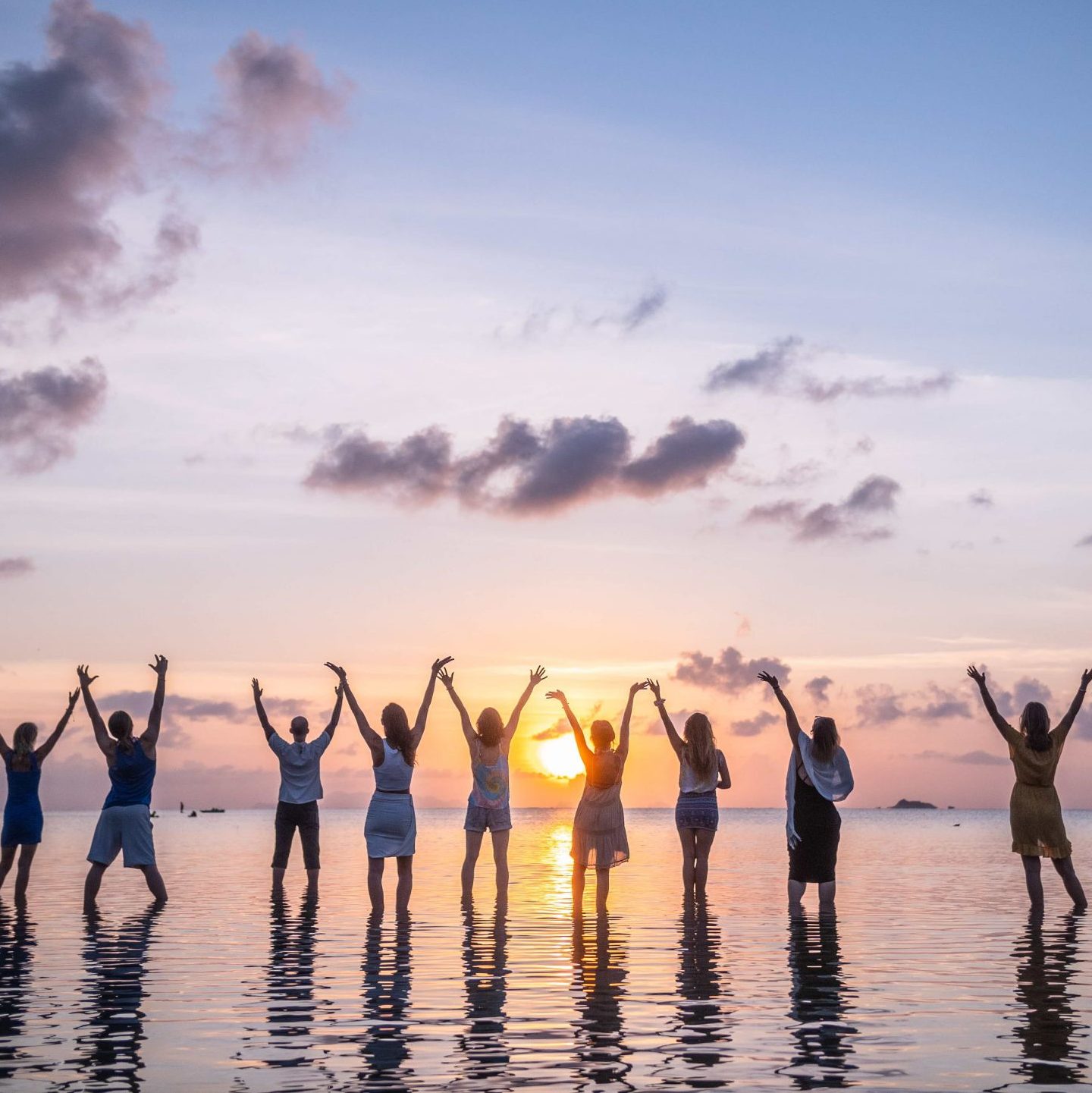 Prices
Prices include 3, 4, 5, and 6 nights of accommodation, all food, 2 yoga classes a day, a group meditation circle, and daily massage.
Weekly rate available if staying longer than a week
Additional nights can be prorated.
A deposit of just 4,000 Thai Baht reserves your space.
Payable in Thai Baht.
Type
Private Garden Room
Private Elevated Bungalow
3 Nights
฿7,500 – Single
฿13,500 – 2 people in twin or double room
฿8,250 – Single
฿14,500 – 2 people in double room
4 Nights
฿10,000 – Single
฿17,500 – 2 people in twin or double room
฿11,000 – Single
฿19,250 – 2 people in double room
5 Nights
฿12,500 – Single
฿21, 875 – 2 people in twin or double room
฿13,750 – Single
฿24,000 – 2 people in double room
6 Nights
฿15,000 -Single
฿26,250 – 2 people in twin or double room
฿16,500 – Single
฿28,875 – 2 people in double room
Weekly rate
฿16,500 – Single
฿28,875 – 2 people in twin or double room
฿19,500 – Single
฿34,125 – 2 people in double room
Low season discounts available for stays over 5 days
About our Center
Our lovely center has exceptional amenities and is directly across the road from a beautiful beach and bay.
Koh Phangan Island – Ananda Yoga & Detox Center
Sample Schedule
Our flexible dates are designed for your convenience. Our schedule is designed to support your full immersion. Schedule subject to change.
Timings
Day
8:00 – 8:45 am
Meditation / Pranayama
9:00 – 10:30 am
Yoga Basics / Dynamic Vinyasa
10:45 am
Breakfast on the beach
Open afternoons
Daily Thai Massage, ocean view lunch
Use of herbal steam room and saltwater pool
3:00 – 4:15 pm
Mixed-levels Vinyasa
4:30 – 5:45 pm
Yin & Restorative Yoga
6:00 pm
Sunset dinner on the beach
*Advanced Yoga class available at 7 am.
Accommodation Types
We have both private and shared garden rooms. All feature balconies overlooking our lovely garden. Sea breezes will keep you cool.
We have both private and shared elevated bungalows. All feature lovely balconies looking out at the sunset.
Yogi Restaurant
During this retreat, you will be served three daily vegetarian or vegan meals. Our beachfront restaurant lounge, The Shell Lounge serves a wide selection of wholesome, healthy yet delicious food to satisfy your tastebuds. Whether you are feeling adventurous for local cuisine or prefer a to satisfy your Western palette, we have it all!
We offer a full selection of fresh vegetarian, vegan, non-vegetarian and gluten-free options. We serve both local Thai cuisine and western food.
Enjoy your meals right on the beach while soaking in the gorgeous ocean views!
Fresh coffee, homemade tea, smoothies and other non-alcoholic & alcoholic beverages are available for purchase at The Shell Lounge!
What to Bring
Sunscreen – Thailand sun can be quite intense.
Comfortable Clothes for Yoga and for a tropical environment.
Flip flops/sandals and/or good walking shoes for adventure day.
Personal Toiletries
Light Jacket or Sweatshirt
Passport/Visa – Most countries receive a one month visa on arrival once you enter the kingdom by air. If you plan to stay longer, you can obtain a tourist visa at the Thai embassy in your home country. It is wise to check into your visa situation through your home country's embassy or consulate before departing, as each country may have different rules and regulations.
Most day to day items that you may need can be purchased on the island.
We have been a Yoga Alliance accredited registered Yoga School (RYS) since 2007